The development of the CK Food Strategy is being guided by a Core Working Group and Chatham-Kent Public Health. This is happening through meetings, where the group is discussing what is currently occurring with the local food system. The group is then finding ways that the local food system can be improved with the CK Food Strategy.
In addition, the Core Working Group and CK Public Health is launching a community survey available at www.letstalkchatham-kent.ca where stakeholders can provide input on the recommendations and action plan for the CK Food Strategy.  This will be available from October 21st to November 18th.
The Core Working Group has representation from all sectors of the food system.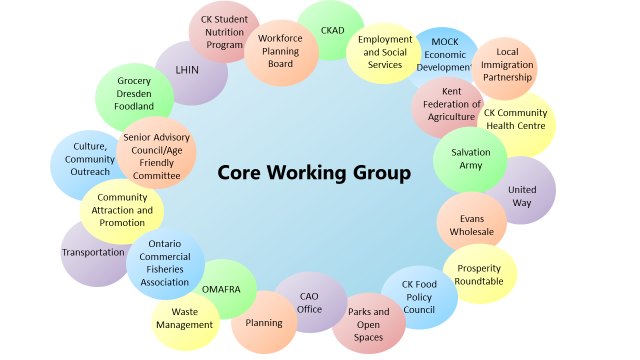 Our Members
Membership continues to evolve as more members join in.  As of June 26, 2019 members at the core working group include:
• Business Improvement including Economic Development and the Workforce planning Board
• Distribution including Evans Wholesale
• Local Producers including CK Agricultural Development Committee, Kent Federation of Agriculture
• Grocery including Dresden Foodland
• Health including CK Community Health Centre, -CK LHIN
• Education including CK Student Nutrition Program
• Community Supports including Adult Language and Learning,  Salvation Army, United Way of Chatham-Kent, CK Prosperity Roundtable, Chatham-Kent Food Policy Council
• Municipal Departments including Employment and Social Services, Planning Services, Parks and Open Spaces, Waste Management, Community Attraction and Promotion, Local Immigration Partnership, CAO Office, Culture, Community Outreach, Transportation
• Other sectors including Ontario Fisheries Association, Senior Advisory Committee/ Age Friendly Committee
• Various Levels of Government including Chatham-Kent Council, OMAFRA
For more information, please contact us at .
Follow us on Facebook and Instagram @ckfoodpolicycouncil