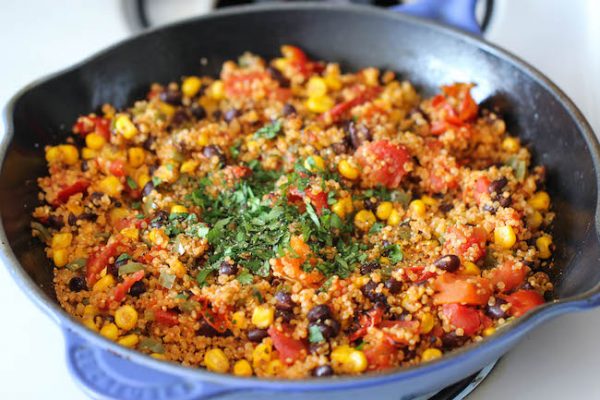 2

cloves

garlic

minced

1

jalapeno

finely diced

1

cup

quinoa

1

cup

vegetable broth

1

can black beans

drained and rinsed, 15-ounce

1

can fire-roasted diced tomatoes

14.5 oz

1

cup

corn kernels

1

teaspoon

chili powder

1/2

teaspoon

cumin

Salt & pepper to taste
2

cloves

garlic

minced

1

jalapeno

finely diced

1

cup

quinoa

1

cup

vegetable broth

1

can black beans

drained and rinsed, 15-ounce

1

can fire-roasted diced tomatoes

14.5 oz

1

cup

corn kernels

1

teaspoon

chili powder

1/2

teaspoon

cumin

Salt & pepper to taste
Heat oil in a large skillet over medium-high heat.

Add garlic and jalapeno, and cook, stirring frequently, until fragrant, about 1 minute.

Stir in remaining ingredients.

Bring to a boil; cover, reduce heat and simmer until quinoa is cooked through, about 20 minutes.
Dietitian's Tips
•Look for low sodium (low salt) bouillon (soup stock) cubes.
•Look for low sodium (low salt) canned beans.
•You can use fresh, canned or frozen corn.
•Quinoa is cooked when you can see tiny spirals (the germ) separating from and curling around the quinoa seeds.
•If you don't have quinoa the dish will also work with quick cooking brown rice.
•This meal is delicious served with avocado (or guacamole), plain yogurt (instead of sour cream) and salsa on the side.