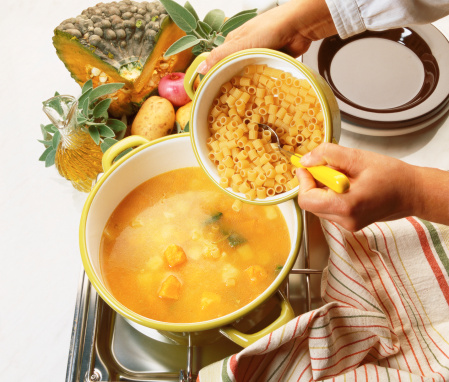 1

large butternut squash

peeled and chopped

1

red bell pepper

chopped

1

yellow bell pepper

chopped

1

yellow onion

chopped

3

cloves

garlic

minced

7

cups

of water

2

tbsp

brown sugar

1/2

cup

35% Heavy Cream

Dried thyme

optional
1

large butternut squash

peeled and chopped

1

red bell pepper

chopped

1

yellow bell pepper

chopped

1

yellow onion

chopped

3

cloves

garlic

minced

7

cups

of water

2

tbsp

brown sugar

1/2

cup

35% Heavy Cream

Dried thyme

optional
Add all ingredients to a large soup pot, bring to a boil, then cover and simmer for 30-35 minutes (until squash is very soft).

Pour the entire soup into a blender or food processor, and blend until completely smooth. If your blender is not large enough to accommodate the entire soup mixture, pour half into the blender, and half into another bowl and blend in 2 batches. Pour pureed mixture back into your large soup pot.

Add the cream to your soup and bring to a light simmer for just a few minutes.

Add a pinch or two of dried thyme for garnish & enjoy!
Dietitian's Tips
Even though this recipe calls for heavy cream, per serving there is not a significant amount so you don't need to worry about the high fat percentage, you could also substitute 2% plain yogurt for the heavy cream.
Soup is a great way to use up vegetables that aren't as fresh when you had bought them. You could also add carrots or celery to this soup; give them a good wash, cut any bad spots off of them, and throw them in the pot!