Our First Meeting!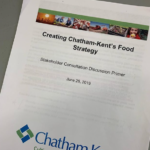 The first Core Working Group meeting was held June 26th, 2019.
At the meeting we had a chance to:
• Review the history of decisions, consultations and food activities that have happened to date.
• Understand the need and purpose of a CK Food Strategy.
• Create a common understanding of a Food Systems Approach.
• Learn about what is happening within the CK Food System.
• Do a group activity to identify the strengths, weaknesses, and opportunities within the current CK food system.
We look forward to our next meeting where these discussions will continue on July 17th! Please stay tuned!
Our Second Meeting!
The second Core Working Group meeting was held July 17th, 2019.
At this meeting we had a chance to:
• Review the various levels of stakeholder engagement in the development of the CK Food Strategy.
• Begin the development of the mission, vision and values for the CK Food Strategy.
• Learn about other Municipalities food system strategies and what they are doing.
• Review the different types of communication that will be utilized in the development of the CK Food Strategy.
Our next meeting will be on September 25th and we will begin to look at developing the community consultation process. We will also start to identify what the recommendations and actions should be around our local food system.
CK FOOD STRATEGY MEETING #3
We are making progress and had some
valuable discussion at the third Core Working Group meeting held September 25th,
2019. At this meeting we:
Finalized the
Vision and Mission and Values- this was a result of members feedback through
the on-line survey
We discussed some
overall goals for the food strategy. We
will be seeking feedback on these goals.
We
focused the meeting on discussion
about what is happening in CK related to the food system work. Afterwards, the project team incorporated
those points into this document and sent out a draft for feedback to the larger
group for input.
Next Steps:
As we move into the next phase: refining our goals, identifying how we will achieve them and making recommendations to prioritize the work, we have decided to split into smaller working groups. To develop the recommendations and actions, we plan to have 2 meetings with each group.
The working groups are:
Production/Processing
&Distribution/ Buying & Selling
Buying
& Selling/Access and Consumption
Food
Waste
The Vision/Mission and Values are finalized!
CK FOOD STRATEGY
Vision:
A healthy food system
for a healthy community
Mission:
Partnering to
create a coordinated, vibrant and sustainable local food system that is
accessible and affordable to everyone in Chatham-Kent
Values:
Local
Affordable
Sustainable
Accessible
Safe
Nourishing