Benefits of Community Gardens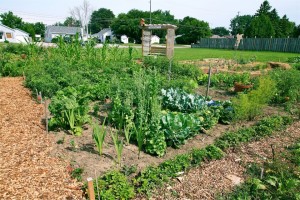 Picture of a community garden
Health benefits including physical activity and stress relief
Access to fresh fruits and veggies
Hands-on learning
Allow you to know where your food comes from
A personal sense of wellbeing including stress relief, education and creation of friendships
Beautifying unused spaces
Increases property values
Increases feelings of safety and community pride
Decreased criminal activity in the area
Environmental benefits including improving air quality, create compost and help to filter rainwater.
What do you need to Participate?
Do you have?
A green thumb or wish you did?
Want to work in a garden but don't have the space?
Need technical advice to grow your own produce?
Need assistance to weed and tend your garden?
If you answered yes to any of these questions, then CK Community Gardens is for YOU!
What better way to get high quality vegetables and fruit than to grow them yourself!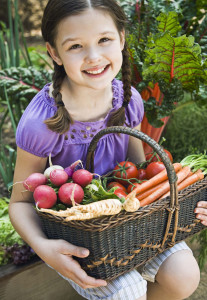 Child with a basket of fresh vegetables
Who Can Garden?
Any age
Youth who need volunteer hours
Seniors– a great social opportunity
Families or singles
ANYONE!
Current Locations
Chatham
Christian Labour Association of Canada (CLAC)
Ontario Early Years Centre (OEYC)
Living Faith Church
Union Gas, Head Office
Chatham-Kent Public Health Unit
Chatham-Kent Public Utility Commission – Grand Ave
Wallaceburg
First Baptist Church
Salvation Army
West Court Housing
Dresden
Park Street Nursing Home
North Baptist Church
Blenheim
Glad Tidings Community Church
Ridgetown
Ridgetown College (Communities in Bloom)
What is needed for a community garden to operate?
Experienced gardeners who will share their knowledge
Land and water access
Garden equipment / tools
Garden plants, seeds and cuttings
Volunteers who will assist in coordinating, assisting other gardeners, helping with transportation and canvassing for resources.
For more information or to sign up for a garden plot, please contact Derwyn Armstrong at 519-358-2659  or by email at
How can I start a new Community Garden?
If you are interested in starting a new garden, please review the below links and follow the proceedure outlined in the Manual for Development of Community Gardens.  If you need more information on how to to do, please contact Lyndsay Davidson at or by phone at 519-352-7270
ext 2478
Manual for Development of New Gardens
Application for a new garden Form #1
Letter of Committment Form #3A